Feb 15 2011
Gig Harbor waterfront experienced some strong signals at the end of the year.
 Gig Harbor waterfront sales volume facts:
Closings 25% better in 2010 than 2009
December closings 66% better year-over-year
4th qtr 71% better than 4th qtr 2009
15% more homes closed in 2nd half of 2010 than 1st half—normally close to 50/50
Only 21% of sales Key Peninsula homes—normally 33-35%
January started strong with 7 sales "under contract"–on a par with 2002 (only 2003 & 2004 higher)
Gig Harbor waterfront median sales price facts:
Up 8% in Gig Harbor (median sales price)–$782,000
Down 2% in Key Peninsula–$455,000
18 Gig Harbor waterfront homes closed over $1m in 2010—double 2009
Homes selling over $1m bunched in the $1.2m range
Gig Harbor waterfront prices back to 2004-05 prices
January sales show 3 over $1m "under contract"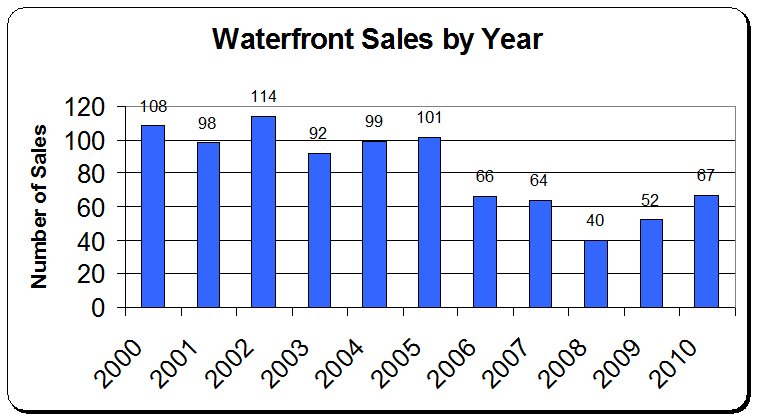 I believe the strong 4th quarter closings were due, in part, to savvy buyers picking up some incredible Gig Harbor waterfront buys–recognizing the bottom was nearing while interest rates were increasing.
Key Peninsula is not providing its traditional 33% of sales—one big change in the market.  Likely this is due to the Gig Harbor waterfront inventory pegged at prices not seen since 2004-05, allowing buyers to not drive the extra miles for "value".
A second change for Gig Harbor waterfront is bank-owned homes have become a part of even the local waterfront scene. 17% of all sales last year were bank-owned or short-sales, including three homes priced over $1m as well as five built since 2004.
Gig Harbor waterfront homes took an excess of a year to sell–doubling 2009 figures and reflective of how slow the market has been. Homes originally listed at more than $1.5 took on average nearly 600 days before receiving a contract. Key Peninsula waterfront took a bit less time—315 days.
2010 was a reality check for sellers.  Prices are down 25% from the 2007 peak and 17% from 2008, which was still a good year for sellers. Gig Harbor waterfront homes sold in 2010 for 79% of the original listed price. This figure would actually have been lower, if prior listings were factored in.  Key Peninsula's selling price to original price was 82%.
2010's priciest Gig Harbor waterfront sale was a high bank estate in the Horsehead Bay area—for $2,350,000. Three of the other $1m sales came from the same area.
This is "the season" for Gig Harbor waterfront.  Inventory is down but a high percentage of this year's buyers are already actively looking. March is historically the best month for written contracts, followed by May.
Carole Holmaas is a Broker at Windermere Gig Harbor, licensed since the late 1960's. She may be reached at 253.549.6611 or Carole@ISellGigHarbor.com
Leave a Reply