Jul 11 2011
Gig Harbor home prices great for buyers!
Gig Harbor home prices are great for today's buyers but discouraging for sellers. Prices are the same as in late 2003.  Key Peninsula home prices are at equal to second quarter 2003.
The usual culprit dragging sales numbers down is the distressed market. When 29% of all sales in Gig Harbor and 56% of Key Peninsula sales are bank-owned or short sales it pulls the numbers down even though the same non distressed home will sell for more.
The graphs tell the story. In 2010 Gig Harbor home prices had a seven month run of improved prices over the year before, but prices plummeted in October, stayed down throughout the winter, bounced up in April and May but declined severely in June. Gig Harbor home prices are now at their lowest point in the last seven and one half years.
Gig Harbor home prices are down 10.5% for the second quarter from 2010 and down 23.4% from May. The10.5% decline speaks to how bad the market still in because the overall drop from the all-time high in 2006—five years ago–is 25%. Supply of homes, based on sales, has been holding in the 10 month range.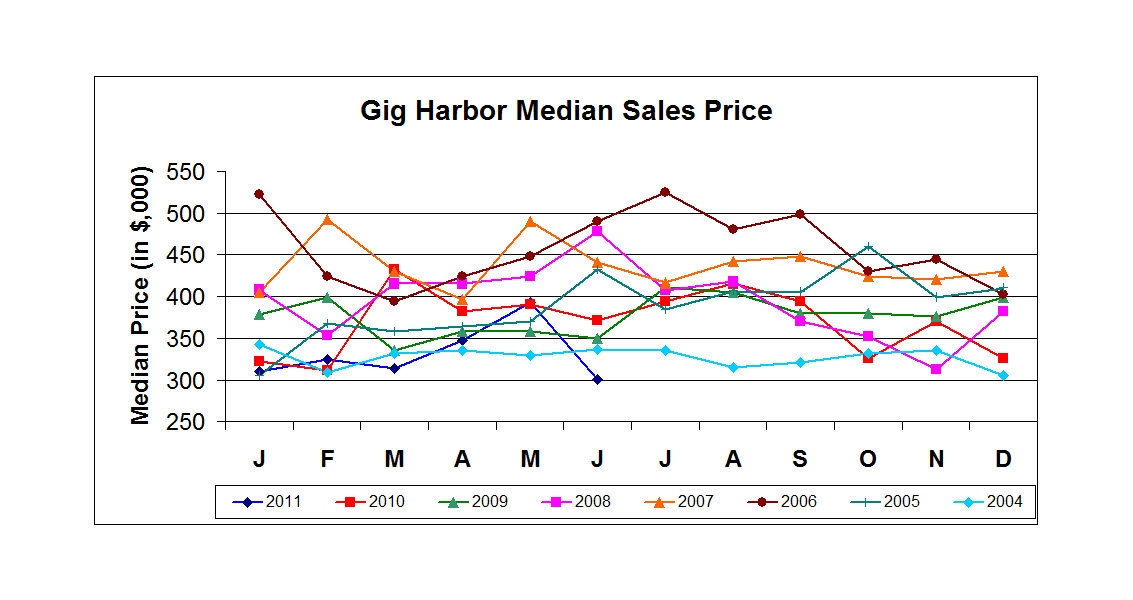 Key Peninsula didn't fare any better. Responsible for a higher percentage of distressed sales, prices are down 16.4% for the second quarter from 2010 and 15% from May. Between 2006 and 2008 there was more price consistency in the market with some of the highs occurring in each of the three years. But June's low is down 54% from the all-time high of January 2007.
All of the distressed home sales in Key Peninsula were bank-owned whereas the balance between bank-owned and short sales in Gig Harbor is more equal.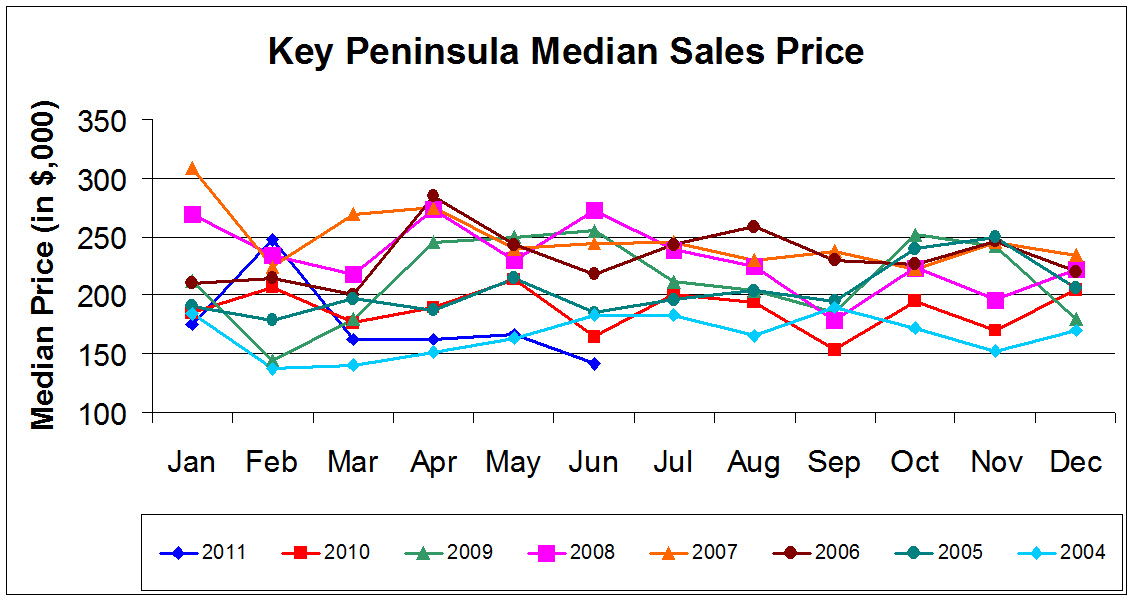 Closings in July will reflect the first month where a true comparison can be made between current and previous year sales. June 2010 was the last month to close on the loan for first-time buyer credit so last year's sales were slightly higher in Gig Harbor but the same in Key Peninsula. I would expect the next few months will see sales easily surpassing 2010.
Second quarter news was consistently dismal—oil and food price increases, European defaults, weather, employment, and D.C.'s stalemate over the debt ceiling and deficit reduction. The economy couldn't get any positive traction and lack of consumer confidence meant buyers were unwilling to buy unless they got a great deal. This is really a "buyer's market."
One glimmer of sunshine is that Seattle has seen some strong activity, some multiple offers in certain price ranges, and some price stabilization. As goes Seattle…so goes Gig Harbor, eventually.
Carole Holmaas is a Broker at Windermere Real Estate, licensed since 1967. She may be reached at 253.549.6611 or by Carole@ISellGigHarbor.com/