Dec 05 2015
Gig Harbor home prices look healthy going into 2016, as we approach the end of the year.
A good gauge for Gig Harbor home prices (including Fox Island) is the quarterly figure of $434,000 — up a substantial 14.8% from a year ago, positioning Gig Harbor home prices very close to the peak years of 2006-07. The single quarter high was summer 2006.
New construction continues to produce one in four sales for Gig Harbor, while it creates one in three listings – typical for an area desirable to live and not yet built-out.
Key Peninsula's improvement is more difficult to quantify. While Gig Harbor homes have gained value consistently all year, the Key has ranged from value increases as low as 2% to as high as 35%. Likely explanations include 1) the number of waterfront homes trading in a single month 2) a smaller number of sales in any single month 3) more distressed sales than Gig Harbor and 4) lack of new construction.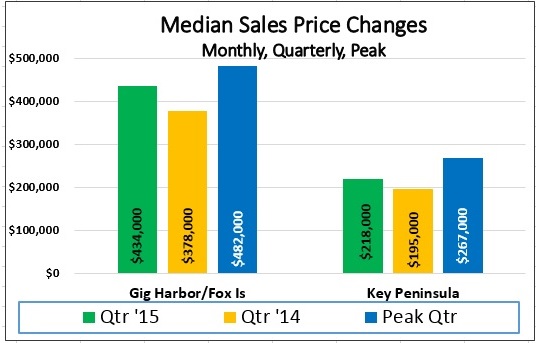 Top Quartile of Sales Makes Comeback
The top quartile of sales…that is the top 25% of sales by price…is making a noticeable comeback. That quartile encompasses sales starting at $580,000 currently and everything above—a strong increase from the $500,000 a year ago.
And while sales over $1m will always be a relatively small number, the 36 sales this year to date are nearly double 2014 and represent the highest number since 2007. The $1m+ category for Gig Harbor home prices has languished at less than half that number for the past six years. In 2014 this category included only view or waterfront homes. 2015 sales include a horse farm, Canterwood homes, and waterfront land as well. Market days have dropped from 127 to 102. All of these sales occurred in the Gig Harbor/Fox Island area.
The stage should be set for a continuing robust market for the top quartile in 2016.